Jerseys will be donned by thousands of Canadians following last week's tragic collision in Saskatchewan.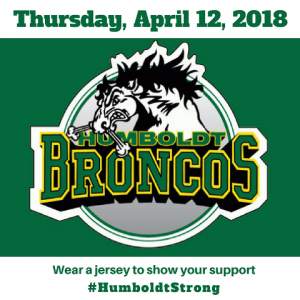 Mayor of Williams Lake, Walt Cobb says that local officials in the Cariboo will be taking part in Thursday's Jersey Day.
"It seems that it's a Canadian wide movement that everybody's feeling the need, and as a hockey town it sure brings home the fact that our kids, that our hockey teams are on the road many, many weekends and it could happen anywhere," he says.
"One of the fellas from the airport used to be on the old Stampeders hockey team and he had a bunch of the jerseys so a lot of them at City Hall will be wearing the old Stampeders hockey jersey."
The Saskatchewan Health Authority confirmed Wednesday that the sixteenth victim of the Humboldt Broncos collision has died.
Those who don't have a jersey are encouraged to wear the team's color-green and yellow.