School District 27 is asking students and staff to wear green Monday to show their respect to the Humboldt Broncos.
Superintendent of Schools Mark Wintjes says that the grassroots request is spreading throughout the country and that they feel they would like to be a part of that.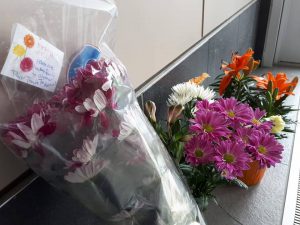 "The loss of lives is always tragic. Our thoughts and prayers do go out to the families, the community, and to all of those that are grieving," says Wintjes.
"As you know hockey is a sport that brings so many Canadians together, but to lose so many young people is deeply heartwrenching."
RCMP confirmed that 15 lives were claimed in Friday's collision between the team's bus that was en route to a playoff game against the Nipawin Hawks and a transport truck.
"When a club like this is impacted it's not just the one community," Wintjes adds.
"Those kids come in from all over the place just like we do here. It's one that it's hard and there will be a lot of people grieving."
"Hopefully they will be able to get through it together."
Williams Lake resident Ken Kitsul has started a memorial for those who lost their lives.
"I have left flowers between the first and second set of doors at the main entrance to the Cariboo Memorial Complex and invite anybody else wishing to leave a memorial to do so," he said.
A GoFundMe campaign to help the players and families affected as of Sunday afternoon has raised over $4.1 million dollars.
Lake City Secondary said on Facebook that in honor and recognition of the tragedy that both campuses will be taking part in Jersey Day on Thursday.