Wildfire sites in the Cariboo, Central, and Southeast regions of the province have been evaluated for potential hazards as charred landscapes may lead to increased run-off resulting in flooding and heightened risk of landslides.
"Work has been commencing well since the fires, the smoke cleared out. They've been ongoing continually," says Rodger Stewart, Director of Resource Management in the Cariboo region with the Ministry of Forests, Lands, Natural Resource Operations and Rural Development.
"The wildfire areas have been evaluated for post-wildfire soil and terrain hazards. We've also been undertaking assessments of watershed stability in all of the wildfire areas and with the River Forecast Centre the Ministry has been watching the snowpack levels and is sharing information to determine where it is we may be facing flooding risks from natural freshet circumstances this spring."
The Ministry according to Stewart is reviewing proposals for construction of protective berms, channels, or debris retention to reduce the risks or impacts of landslides or debris torrents, and is working with the Ministry of Transportation to ensure bridges and culverts are ready for any increased flows.
"The Ministries are sharing information with local governments to inform any preparations that maybe be needed for possible emergencies from landslides or flooding this coming spring," he says.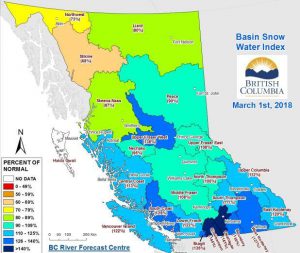 The BC River Forecast Centre noted in its' March 1st snow survey that very high snow packs (>135%) in the South Interior (including the Skagit, Similkameen, Okanagan, Boundary, and Upper Fraser West), and high snow packs (>120%) in the Kootenay indicate an increased seasonal risk of flooding.
"Invasive species are also being examined," says Stewart.
"Staff are reseeding areas that have been disturbed and are being able to take assessments and to work with our clients and partners to manage any invasive species occurrences through the coming summers."