Members of the Williams Lake RCMP along with Police dog Grimm donned Pink Shirts on Wednesday to stand up against bullying.
Dog handler Corporal Bentley Johannson with Grimm and colleagues visited Chilcotin Road Elementary, Mountview Elementary, and Marie Sharpe to mark Pink Shirt Day.
"I think my experience with it and my experience yesterday, it's a really great way to spend time together, for them to realize that we're very approachable and that we are engaging with them," she says.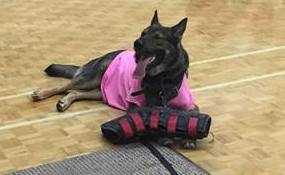 "Bullying to me is unacceptable and it's probably part of the reason that I got into policing one way or another."
Johannson who is still relatively new to the detachment having started her first week during last summer's wildfires adds that she has always been a huge proponent of Pink Shirt Day.
"I'm super proud of the fact that all of the Williams Lake members they were never asked to come with me do those demos. It was just going to be me and Inspector Pelley and they all just jumped up and came." she says.
"I think there's a really good unit here as a whole."
Students during Wednesday's full assemblies were introduced to Grimm and RCMP members. They were also shown a demo on how Grimm would apprehend someone and were able to assist in telling the bully to cooperate.
"Our motto was 'Take A Bite Out of Bullying'. With Grimm as well as my previous dog I've done a lot of demos and the kids love the dog."