The Integrated Community Safety Initiative (ICSI) presented on Wednesday grants totaling $268,318  in Williams Lake to 32 applicants with projects aimed at reducing crime and increasing community safety.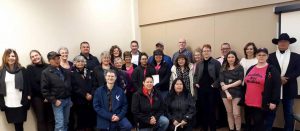 Kaitlyn O'Toole works for the Tl'etinqox Government as their justice program coordinator.
"We feel pretty lucky that we were accepted for 3 grants. One is going towards a brand new Healing and Leadership Centre just outside of the community on an off-grid property. Another is going towards our 3rd annual Youth4Leaders summit which is a platform for youth to come together and celebrate healthy youth being healthy," she says.
"Then the final grant that we've been awarded is a partnership with ourselves, Yunesit'in, and Tsideldel which are neighboring Tl'etinqox communities. What we're going to be doing is offering workshops bringing out service providers from Williams Lake so youth and adults from the communities can get to know them and build a relationship. It's also going to create an opportunity for youth and adults from the 3 communities to come together and learn in the same space."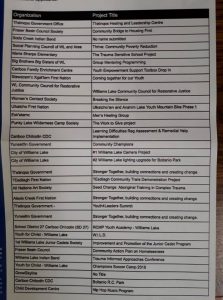 Of the 32 projects announced 18 of them are to serve First Nations Communities and the region while the other 14 to serve Williams Lake.
Williams Lake and the Cariboo Chilcotin had received a civil forfeiture grant from the Province in 2016, with the ICSI Steering Committee established to prioritize community safety goals and to fund targeted projects.
The estimated total number of people reached due to the awarded funding is 67,265 while the estimated total number of people directly assisted due to awarded funding is 25, 196.
"The next step is the funds are going to go out and then the projects will be starting which we're really excited about," says ICSI co-chair Vanessa Riplinger.
"From there once they start happening we're asking everybody to be tracking their progress-they have a year to do it, and then hopefully we'll be able to provide some other funding some way."