Ferry service between Port Hardy and Bella Coola remains on target for this summer.
Refurbishment work currently continues on the vessel in Victoria that will have a local flair according to BC Ferries Executive Director of Public Affairs, Deborah Marshall.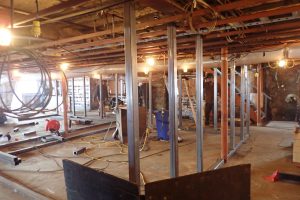 "It will look similar to other BC Ferry vessels with the Interior, but one thing that's going to be really neat about this ship is we are going to be commissioning a First Nations artist to do a rendition of a Northern Sea Wolf that will be featured prominently on one of the interior walls of the vessel."
Marshall adds that they are working with the First Peoples' Cultural Council right now to select an artist to do that work.
The vessel was named Northern Sea Wolf following a community engagement process last summer.
The name is inspired by a First Nations legend in which the Sea Wolf is a manifestation of the Orca. The Sea Wolf symbolizes family and loyalty and the spirit of the Sea Wolf protects those travelling their waters.
The Northern Sea Wolf will accommodate at least 35 vehicles and 150 passengers and crew.