The Integrated Community Safety Initiative (ICSI) will be presenting over 30 projects aimed at reducing crime and increasing community safety in the region with up to $10,000 next week as intake for grant applications is now complete.
"We're pleased with the amount of engagement in the community and a number of programs that are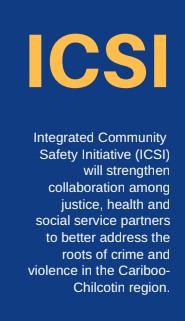 going to move forward," says committee co-chair Williams Lake RCMP Inspector Jeff Pelley.
"Our applications received there was 57% of the projects to serve First Nation communities and the region at large, and 43% within the Williams Lake area."
A total of 35 projects had applied including the City of Williams Lake that had submitted two applications on behalf of the Community Policing Committee for a security camera project and increased lighting in Boitanio Park.
An open house in which the successful applicants will be announced takes place on February 28th from 10am-12pm at the Pioneer Complex Centre.
Williams Lake and the Cariboo Chilcotin region was provided with $500,000 in civil forfeiture grant funding by the Ministry of the Public Safety and Solicitor General in June 2016.