There will soon no longer be the need to book an appointment to see a family physician in Williams Lake as a walk-in clinic serving the needs of the community and surroundings will soon be available.

Director of Borland Medi-Clinic, Dr. Johann Schreve confirmed that they are just adding the final touches to the building located at 452 Borland Street and will hopefully be ready to see patients by March 5, 2018.
He provided an overview of the clinic and what services will be offered in an email.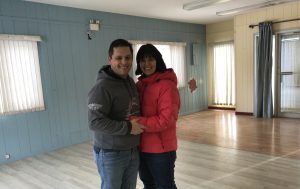 "When we planned this clinic we decided that we wanted a paperless and modern solution. So, patients will never be provided with a piece of paper," he said.
"All lab requisitions, X-Ray, CT, ultrasound requisitions, specialist referrals and prescriptions will be faxed from the EMR to the patient's preferred pharmacy, diagnostic imaging department, and lab at Cariboo Memorial Hospital. Saving one tree at a time. "
The physician operated Clinic will see Dr. Schreve serving as the director to facilitate the process and will be managed by certified health coach Suzanne Schreve.
"We aim to provide wellness coaching in the future," adds Dr. Schreve.
"We are excited to provide this service in Williams Lake!"
Services to be available at the clinic include:
MSP Visits

WCB

Tetanus Immunizations

Non-Insured Services – Driver's Medicals, Return to work, Medicals, out of country patients welcome

Minor Surgical Procedures – Suturing, suture removal, biopsies, cyst removals, some cosmetic services

Patient requiring a biopsy will be booked into a surgical slot in the clinic. Dr. Schreve will do most of the procedures.

Flushing of ears

Warts – MSP coverage for children, $10 for adults

Papsmears

Screening as per

Choosing Wisely

Detox Referrals
Dr. Schreve says as the Borland Medi-Clinic is a walk-in clinic, patients will not be able to make appointments.  
"All patients will be required to register to be seen, as we require a standard set of information to make better decisions for and with them," he explains.
"On our website, we have a secure registration form that generates a document that will be used to create and update the patient's chart on our EMR. This can also be done using pen and paper once the clinic opens its doors,"
The electronic version according to Dr. Schreve is preferred as it allows them to create patient charts in advance to deliver a faster and more effective service.
"This can be completed on your smartphone, laptop, computer or iPad and the pre-registration period is now open for those who feel they might want to use our service in the future. Once you have registered, your chart will be created and you can just show up to be seen."
Patients will be required to report to the front desk to check in if they want to be seen. Once checked in, they will be provided with a time slot on a first come first serve basis.
"Those who are allocated times 60 – 90 minutes later will be able to wait in our waiting room where we will have complimentary internet provided by Telus, but they can also go into town and come back 20 minutes before their scheduled time to avoid long waiting times in the office," said Dr. Schreve.
He adds that they have invested in some additional features to accommodate those in wheelchairs.
"We have installed an electronic door for the patients needing to enter our facility with a wheelchair. Our one exam room is extra big to make it easy for the wheelchair to enter the room. Our bathroom is also wheelchair accessible," he said.
Physicians currently showing interest in working in the clinic are:
Dr Johann Schreve (Jnr)

Dr Siegfried Schreve (Snr)

Dr Kristin Keith

Dr Meandi Els

Dr Josua Roux

Dr Tersia Van Rooijen

Dr Ghaida Radhi

Dr Tamara Krivokapic