Giving back to the community together is the goal of 100 Women Who Care in Williams Lake.
Tammy Watson initiated the group in Williams Lake last month after seeing it in other communities.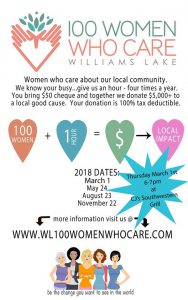 "Specifically in the Okanagan-my sister-in-law is involved in a group there," she says.
"I thought it was a great idea, great for busy people that are on the go and don't have a lot of time but do want to make a difference. I think we are better donating together rather than individually."
100 Women Who Care will be meeting quarterly with each member donating $50 each quarter that will go to one of three nominated local charities.
Their first meeting will be held on March 1st at CJ's Southwestern Grill in Williams Lake.
The 100 Who Care movement was initiated in November 2006 by Karen Dunigan of Jackson, Michigan. Today, there are over 350 Chapters around the world including 100 Women Who Care, 100 Men Who Care, 100 Men Who Give a Damn, 100 People Who Care and 100 Kids Who Care groups.