About 50 people took part in Tuesday's open house at the Pioneer Complex in Williams Lake to provide recommendations about how the BC Government can better plan and respond to wildfires in the future.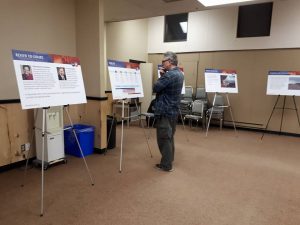 "We've done these previously in other locations and it's about the same number in other locations-50 to 60," says co-chair of the provincial Flood and Wildfire Review, George Abbott.
"There were some homeowner residents here in Williams Lake, we also had a few ranchers out, we had some First Nations folk out-it was a good mix of people, and as usual we learn a lot whenever we are able to sit down with people and talk about their issues."
Abbot who is co-chairing the Review with Chief Maureen Chapman says that their report is due to the BC Government on April 15 and will likely be made public at the end of that month.
"We certainly want to ensure that people when they're evacuated, when they're affected in some measure by fire or flood have an opportunity to get up to date accurate information," says Abbott noting that they have been hearing a lot about communication.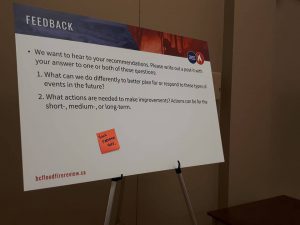 "We've heard from a lot of people who were either frightened or angered by something they read on social media which subsequently they found to be false. They would really like to find some way for government to get accurate up to date information to them on an ongoing basis during these disasters."
Over 65,000 people in BC were displaced last year as a result of floods and wildfires.
As of November 30, 2017, flood response costs were estimated at over $73 million dollars while direct fire suppression costs were estimated at over $564 million.
Abbott says they will be around the Williams Lake area Wednesday with a variety of individual meetings with people who have requested them adding that they will be in Alexis Creek on Thursday.