Over 50 brave souls took to Williams Lake to freeze for a reason at this year's polar bear plunge held Saturday.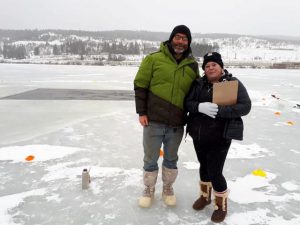 Organizer with the Caribruisers Roller Derby, Sunny Dyck says she was proud of the event which marks the first year the Caribruisers have organized it after agreeing to take it over from the Williams Lake Rustlers Football Club.
She says that funds raised through the Plunge will be going to numerous groups and individuals, including but not limited to the SPCA and a local child who was recently diagnosed with leukemia.
"Each group was able to raise for their cause, hence why it was called 'Freezin for a Reason'-pick your reason, get cold for it," says Dyck noting that there was amazing turnout from each group and that some were able to raise well over $1,000.
The temperature at the time of the event was minus 15 degrees Celsius with the wind which was gusting to 50km/h making it feel more like minus 25.
"It's always nerve-wracking to put on an event for the community because you always want it to be awesome and spectacular," says Dyck.
"It will happen again next year."