The redevelopment of Cariboo Memorial Hospital is one step closer to becoming a reality.
Health Minister Adrian Dix was in Williams Lake to announce Friday that the concept plan which was paid for by the Regional Hospital District has been approved to move forward to the business plan.
"It's been languishing for some time not approved, and the provincial government's job is to approve the plan to move on and we've done that. It's very exciting I think for Williams Lake," he says.
"Wh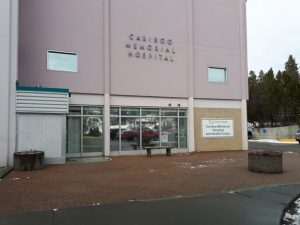 at it says is that this Hospital is important, it's going to be a central part of Williams Lake life for a long time, and we need to bring it up to the 21st century, and that's what this project does."
"The new concept plan came to me in November and I don't think a concept plan has been approved this quickly in provincial history. That said people have been waiting a long time."
The concept plan identifies the urgent need for redesign and expansion of Cariboo Memorial Hospital to address the needs of the population and provide improvements to the inpatient unit, maternity unit, emergency services, pharmacy, University of British Columbia medical school space and outpatient services.
Dix says that they are hoping to complete the business plan for Cariboo Memorial Hospital by this year where it will then move to the next stage of going to tender.
"We're hoping to meet every deadline," he says.
"Getting the business plan done you want to get it right of course because the last time we built the hospital new it served us for so far for 55 years. So it's significant, but we want to get on with it."
The business plan will focus on costing the project which is currently at over $100 million dollars and will also address how services will be expanded in the renewed facility that is expected to be approximately 40% larger than the existing hospital.
"I'm excited to hear that the recently approved concept plan is moving forward to the business plan," said Dr. Glenn Fedor.
"Really what it means with the business plan is that we can now sit down and actually look what we really provide in our community, what clinical services, what we do now, but more importantly what we need to do for the future especially as we anticipate some brighter things for Williams Lake."
In the last year according to Fedor, 5 new family doctors and 1 ER doctor have been recruited.
He says that 1 new obstetrician/gynecologist is also on the way and that they are also trying to recruit a nurse practitioner.
"My vision for Williams Lake is that we will be a medical hub serving the needs of the Cariboo Chilcotin with a vast array of services, no longer will we always be needing to travel long distances for the medical help that we need."