Preliminary figures released Wednesday from the BC Coroners Service shows more than 1,400 British Columbians died due to an overdose in 2017-a 43% increase from the year prior.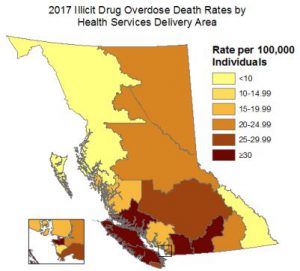 "There is no question that this is a public-health crisis that is impacting people from all walks of life, and we need to continue to work together to help reduce stigma and increase awareness and support for those at risk," said Chief Coroner Lisa Lapointe in a media release.
Of the 1,422 deaths, 1,173 were male.
The top four detected drugs were fentanyl (70%), cocaine (48%), methamphetamine/amphetamine (33%), and heroin (31%), with preliminary data suggesting that the proportion of illicit drug overdose deaths for which illicit fentanyl was detected (alone or in combination with other drugs) was approximately 81%.
An overdose alert was issued by the Interior Health Authority (IH) last week after 7 suspected overdose deaths within three days.
IH said that a further update from the BC Coroners Service confirmed an additional two deaths increasing the total number of suspected drug overdoses to 9 over a five-day period (Tuesday, Jan. 23 to Saturday, Jan. 27, 2018).
The three townships experiencing the highest number of illicit drug overdoses in 2017 are
Vancouver, Surrey, and Victoria.
Minister of Mental Health and Addictions, Judy Darcy is expected to announce Thursday the first British Columbia communities that will receive the support of new community action teams and dedicated funding to help further address the overdose crisis.