Williams Lake City Council endorsed in principle a request for 9 axle logging trucks on City roadways following a delegation by industry representatives Tuesday evening.
"As expressed to Council it's going to be another configuration for the contractors to use. So it's another tool in their tool belt where if they don't see it working out for them, they don't have to buy it," says Travis Kiel, Woodlands manager for Tolko Industries.
Kiel who was joined by representatives from West Fraser, says that the project calling for 9 axle trucks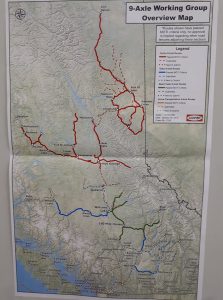 started roughly 5 years ago and was an initiative put forward by Tolko, Canfor, and West Fraser.
He says there are 1.25 million loads per year of logs equating to about 3,000 trucks and 160 million liters of fuel.
"We've heard loud and clear with some of our contractors that there is a looming driver shortage," says Kiel adding that forestry needs to remain innovative and competitive with other jurisdictions.
"Also with our timber supply, they are not getting any closer to our mills-they're getting further away."
As for safety concerns, Kiel says that FPIInnovations was hired to conduct tests that passed to government's liking as well a third party consultant from the United States to do a shadow analysis.
"Everyone thinks that a larger load can't stop as quick, but by putting another set of brakes on the vehicle through that other axle it actually increases the stopping distance…9 axle is also around 12% reduction on pavement damage on an easel measurement."
Of the 61,000 loads across the province in 2017 by Tolko, Kiel estimates that 3% were done by 6-axle, 33.5% by 7-axle, with 64% by 8-axle.
"We're looking to the extent that we'll have 200 trucks working within the Cariboo; probably 20 trucks in the next 2 years," said Tolko representative Jerry Mooney.
"I think that will be a win."