His eyes may have been set on reclaiming gold but Brock Hoyer of Williams Lake says he's stoked to have won silver in Snow BikeCross at the 2018 X Games in Aspen.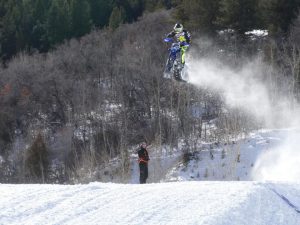 "We worked really hard, everyone in town, all my sponsors, we put a lot into this program to get another medal.  It's not exactly what I wanted, but hey I'll take silver for sure.  We had a lot of ups and downs but that's why I do racing," says Hoyer.
"Our setup wasn't quite on point. We had to make minor adjustments but just couldn't get a start on that snow, on that surface we were running on, but we have some ideas for next year. I held up there for a bit from second and third and worked my way through right at the second. The final leg caught in behind some lappers that didn't understand how to move over when the fast guys coming through to lap them, but you know it's racing and to be able to take home the silver I'm stoked to get another medal and to be on the box."
Hoyer adds that the support from friends and family including a crowd that gathered at Spectra Powersports to cheer him on was awesome to have.
The Aspen 2018 Snow BikeCross gold medal was claimed by Cody Matechuk of Cochrane, Alberta.
"I'm one of the reasons he got into snow biking," Hoyer says of Matechuk.
"We worked on a lot of projects together.  We're heading right now to Revelstoke to film some of the new sleds for 2019 for  Yamaha; he and I will be a part of that as well."