BC Transplant and the Provincial Health Services Authority set a record year of organ donations saving nearly 500 lives in 2017.
This is a 25% increase compared to 2016 as the rate jumped to almost 25 million donors maintaining status as one of the leading provinces in Canada for deceased donations.
"The last year has been a really dramatic increase in the number of deceased donors," says BC Transplant Services Director David Landsberg.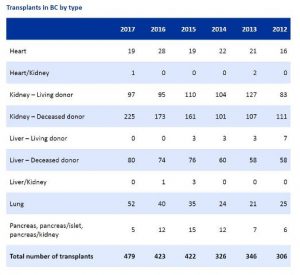 "That has led to record years for kidney disease donations, heart and liver transplants, as well as lung transplants."
In the Northern Health Authority 23 people received transplants in 2017, a slight increase from 21 a year prior. Also recording a slight increase is Interior Health; 75 people received transplants in 2017 with 68 in 2016.
As of January 1, 2018, 638 people were still waiting for an organ transplant in BC.
More information on organ donation and how you can register to become a donor can be found at
transplant.bc.ca.
(With Files from Kyle Balzer with MYPRINCEGEORGENOW)