'Every Door is the Right Door' was the message behind an information sharing session Thursday evening at Signal Point with service providing agencies in Williams Lake.
"It went amazing. We had, I think about 15 servicing providing agencies with booths set up," says executive director Sarah Jackman.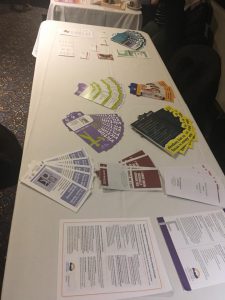 "Just a really casual event letting everybody mingle a bit and go around from table to table, finding out what other agencies have to offer, and what services they provide so that when we're dealing with the vulnerable clients we do deal with even if they're coming to our office if it's not something that we deal with directly at least now we all know who exactly we can take them and who can provide the help that they need."
Jackman says with the information they gathered at the event they will now put together a service providers handbook that they will be giving out to all agencies including the RCMP in the next couple of weeks.
"I was speaking to the group last night and I said what I really want from you is your commitment to make sure that you're not just handing somebody a phone number and say well we don't do that, call this person," she says.
"But that you actually make the commitment to make the connection with them and whether that means making the phone call yourself or driving them to somebody else's office in person just to make sure that nobody falls through the cracks."
Jackson says because mandates and contracts of agencies can change, she would like to hold such an event every couple of years.
"I think it's important that we all stay on top of this so that we have that community collaboration that's so important to keep things moving."