UPDATE Tuesday, January 23: Williams Lake City Council has deferred the owner's request seeking to extend the derelict status of a property on Broadway Avenue South until their next council meeting.
"Under the bylaw, this is the last opportunity to extend the derelict building registration," noted Councillor Ivan Bonnell.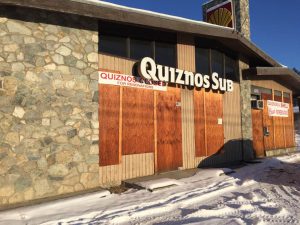 "After this extension, the owners of the property either have to demolish the building, bring it into compliance, or upgrade it and open it up for business again. At the end of 2018, either one of those actions has to happen because we can no longer extend it any further."
Mayor of Williams Lake Walt asked the staff if it is necessary to extend the bylaw.
"I've had a conversation with a senior bylaw officer and he feels this is the best approach given the conservation he's had with the proponent who plans to come and visit the site in early 2018," said CAO Milo MacDonald.
Cobb remained firm that he was not in favor of extending it and that they are running into the same scenarios they've had with the Slumber Lodge.
"I think we should move on it and tell him it's got 30 days to get a plan in place otherwise we're going to demolish it," he said with Councillors Sue Zacharias and Scott Nelson remarking they're not opposed to that.
Because a bylaw officer was not in attendance at Tuesday's regular Council meeting and therefore unable to answer the questions of Council, Cobb recommended that the recommendation to approve an additional 12-month derelict building registration permit for the property be deferred to the next meeting.
Original Story: The owner of a property on Broadway Avenue South in Williams Lake that was identified as a derelict property in October 2015 is seeking for Council's approval for an additional 12-month derelict building registration permit.
"In November of 2015 the property owner applied, and was approved, for a 2-year Derelict Building Registration (DBR) permit which was issued January of 2016," explains Evan Dean, Bylaw Services in a report to Council.
"This original DBR permit will be expiring January of 2018 and the building owner has now requested, in accordance with the Good Neighbour Bylaw, council approval for an additional 12-month permit to extend the current DBR to January 2019."
Dean notes that the City of Williams Lake Good Neighbour Bylaw allows for a 1  additional derelict building registration permit for a period of 12 months.
Although Fire Department staff advised the property owner  in September 2014 that the underground fuel storage tanks had been out of service for a significant period of time and must be dealt with, Dean says that staff report  no further correspondence on this matter and that to date there are no significant issues with the subject building from either the Building Inspector, the Fire Prevention Officer or the Bylaw Department.
"I had a discussion with the owner when he was here two years ago and he told me what he had planned for it, but nothing has been done," said Mayor of Williams Lake Walt Cobb in an interview in December with MYCARIBOONOW adding that the property is an eyesore.
"If it becomes an unsafe premise then we can deal with it similar to what we did with the Slumber Lodge. We did force them to tear down the canopy; if you remember at the gas bar area there was a roof, well that became unsafe. It's an unsightly premise but there's not a lot we can do as a municipality until it becomes unsafe."
A derelict building is defined by the Good Neighbour Bylaw as – a building or structure, which is without lawful resident or occupant or which is not being put to a lawful commercial, residential, or industrial use for a continuous period of sixty (60) days or which, may be unoccupied and unsecured; occupied and secured by boarding or other similar means; unoccupied and deemed a nuisance or hazardous building or structure or no longer hold a valid building permit.
Council will be considering the owner's request on Tuesday.