A new group has stepped forward to take the plunge and keep a Williams Lake tradition afloat.
The annual polar bear swim that was organized for the last 17 years by the Williams Lake Rustlers Football Club is being put on this year by Caribruisers Roller Derby.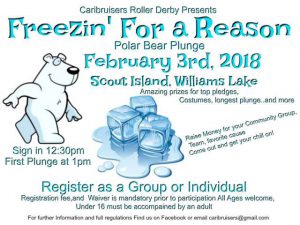 With the event just over two and a half weeks away we asked Caribruisers Founder and Organizer Sunny Dyck how volunteering for it is coming along.
"Central Cariboo Search and Rescue has stepped up and they will have their ice extraction team out there, we have safety covered, we have Northern Academy of Strength, the strong men, to help out with not only security but safety as well and we have our team the Caribruisers, the kids are really excited about it"
Dyck's group has been given a lot of help on how to put it together and run it from one of the former organizers and the community has helped out in a big way as well.
"It's been awesome, I love this community, I love it so much. Even after what we went through last year there's still those businesses in town who are contacting me, how can we be involved, how can we have something that we can give back to the people who are doing something in the community".
Dyck said anyone who would like to take part in this year's event that a waiver is mandatory prior to participation and individuals under 16 must be accompanied by an adult.
Freezin for a Reason polar bear plunge goes Saturday, February 3rd at Scout Island in Williams Lake.