One of three new transit buses rolled into Williams Lake Thursday morning.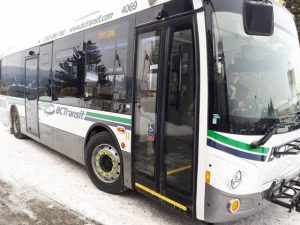 Mayor Walt Cobb with Councillors Scott Nelson, Craig Smith, and Ivan Bonnell, and Director of Development Services, Leah Hartley was later joined by CRD Director Steve Forseth and RCMP Inspector Jeff Pelley for a ride of the new 30-foot bus from City Hall to Boitanio Park.
"It was great to see brand new buses for Williams Lake so we don't have a lot of repairs. They're smaller buses which constantly we've had concerns about the amount of people and ridership, but with the smaller buses, it's going to be great. The maintenance costs and everything is going to be going down. I think it's good for us."
Each Vicinity bus cost approximately $319,000 and is funded by the Province of BC and the City of Williams Lake through BC Transit's local government lease fee program.
They can each seat 24 passengers with room for another 20 standees and have room for two mobility aids. The buses are also equipped with two doors for more efficient operation and easier access on and off the bus by customers
"It's a long time coming. Constantly the new to us could have been 10-15 years old where now these are brand new," says Cobb with Councillor Craig Smith noting that the new buses were something Council first talked about 3 years ago.
"You can smell the newness like a brand new car. It's great."
The new buses are made by Grande West Transportation International Ltd., based in Aldergrove and have active closed-circuit television (CCTV) cameras to improve the safety of customers and drivers.
"The new buses will help us better connect people and communities in Williams Lake," said Manuel Achadinha, BC Transit President and Chief Executive Officer. "Customers will see and hear a difference with the new buses as they are more effective and efficient."
Introducing the new medium-sized vehicles was a recommendation in the 2016 Williams Lake Transit Service Review