Hockey history was on display by two murals that were unveiled at the Cariboo Memorial Recreation Complex before Saturday night's game between the Stampeders and the Kelowna Sparta.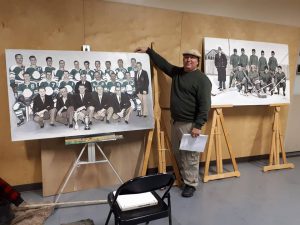 Artist Dwayne Davis was on hand to answer questions on the murals of the Alkali Braves and Williams Lake Stampeders and show his skill with the brush as he worked on the incomplete mural showcasing the 1952/53  Stamps.
"They won the Waller Cup which was the cup at the time for senior hockey. In the early parts of the Stampeders they built a lot of the culture in Williams Lake. A lot of the mines and mills would actually import players and give them a job, and a lot of those guys ended up staying on and becoming big parts of the community," he explains.
"It was really cool and it's good to recognize them."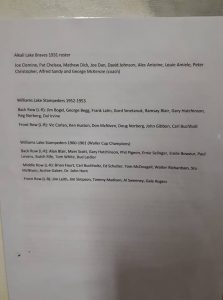 The mural of the Alkali Braves is of the team in 1931 that went from Williams Lake to Vancouver to play against a professional team which Davis says at the time was pretty unheard of for a First Nations team.
Davis was yet to start painting the mural of the Williams Lake Mustangs, a junior ice hockey team that folded in 1996.
"I might of bit off a lot more than I thought when i took it on, but they turned out great," says Davis.
" When I had taken it on I got pretty in the moment and all excited. A good analogy would be if you were to take a 100 piece puzzle; painting murals is like putting together a 100 piece puzzle. While now I have two 5000 piece puzzles and it's like you threw them in a bucket and shook them up and okay now put them out. There's a lot of detail you have to work on."
Although the details have yet to be worked on where the murals will be housed permanently according to Economic Development Officer Beth Veenkamp, it is the intent to make them part of the mural walking tour.
"I believe they will actually go into the arena," says Davis. "That is my hope anyway although I think the Alkali Braves, I think the Band actually might be wanting it. If they do that's great."
Davis plans on having the murals that he started working on in November complete by May.
He says he will be also traveling with the Mustang mural to schools within the area to show to students and asks anyone who has a good image of the team to scan it to him as the current images he has are quite grainy. You can reach him by email at [email protected]