A legacy cheque presentation by Scotiabank at Saturday's Rogers Hometown Hockey festival in downtown Williams Lake saw the Williams Lake Minor Hockey Association receiving $15,000.
President Todd Isnardy says it was mindblowing to see the support.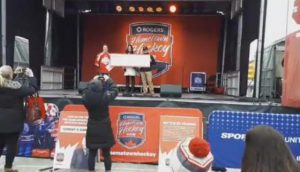 He says he's sure that it will be a hot topic at their upcoming executive meeting on January 9.
"For the last few years, we've tried to get through the organization that skill development for every player that's registered through minor hockey. Our kids that we have, all over 500 involved, this money needs to go them to make them into better hockey players."
When asked how he felt taking part in Rogers Hometown Hockey, Isnardy called it an amazing experience and said that it was something Williams Lake needs after a very hard year.
The opening ceremony for Rogers Hometown Hockey was led by Chief Ann Louie of the Williams Lake Indian Band before noon.
"It's truly an honor to be here to honor all of our hockey players, all of our hockey parents, our grandparents, our hockey moms and dads, aunts, and uncles that participate in this beautiful sport," she said.
"I've been following hockey for over 40 years. I currently have a grandson that plays in rep and one in house so it's been exciting times. And with that, I just want to thank all of our Elders, all of the volunteers that have organized this great event. I know it takes numerous hours and hours of work to do this type of planning and to organize an event of this magnitude."
(Editor's Note: Listen to the interview with the author of this report and Williams Lake Minor Hockey President, Todd Isnardy following the Scotiabank Legacy Cheque Presentation by local Branch Manager Aaron Mannella and Tara Slone in the audio file below.)