A bright future is in store according to the President of the Cariboo Chilcotin Museum Society.
George Atamanenko says he is looking forward to 2018 and the years to come.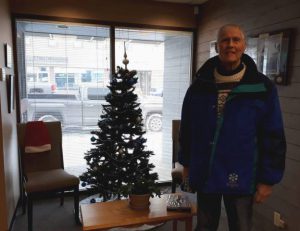 "We have a new Board which was elected in November and people are just willing to work towards the Museum, towards the changes we had of course very temporary ones. The other part is that the City is on record of doing this Heritage Park idea-we're going to part of that."
Atamanenko says that even part of the basement of the Tourism Discovery Centre will be renovated in January adding more space for their displays.
He adds that another positive step is that they now have a sign outside of the Discovery Centre saying Museum which was put up by City staff last week.
"Our community is not just the City; it's the regional district, it's the whole area and about 40% of the artifacts are from outside of the City. I want to involve the Regional District more, and we're going to be doing some pushes on that," says Atamanenko.
"We're also going to engage the community more. The Museum is really part of our whole community and it means various organizations or people. I want to see them more involved and we're going to proceed with that direction."
The Board of Directors said in a Facebook post on December 19 they have decided to remain temporarily at the Tourism Discovery Centre after considering an estimate in excess of $200,000 would be the price for a second move to a site downtown:
In an effort to fulfill the mandate of a motion Sheila Wyse put forward at the 2017 Museum of the Cariboo Chilcotin Society AGM on November 23, the Board of Directors established a committee to investigate 10 possible sites in the downtown core. The committee used a list of requirements to adjudicate the suitability of each of the 10 sites the committee explored. The investigation revealed that most available sites are not eligible for short-term lease; they are already occupied or would take at least a year to vacate, renovate and be viable to accommodate the museum.
The board of directors for the Museum of the Cariboo Chilcotin will continue look for a permanent home near the downtown core, where the museum can flourish and support the businesses of Williams Lake.
William Adams who served as curator is no longer with the Museum.