The Inspector of the Williams Lake RCMP Detachment was at City Hall Tuesday evening to present two men who had stopped a suspect in the progress of robbing a local bank with Certificates of Appreciation.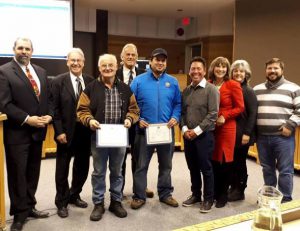 Inspector Jeff Pelley gave his sincerest appreciation for the actions of Bill Drebit and Blaine Grinder in making Williams Lake a safer community.
He says their actions in which they were able to successfully hold a resisting suspect against his will until police arrival 'demonstrate great bravery and perseverance'.
Drebit and Grinder were also presented with Certificates of Appreciation by Mayor Walt Cobb on behalf of the City.
39-year-old Christoper Swain of 100 Mile House has been charged for the November 28 incident at CIBC with robbery and disguising face with intent to commit an offence. He has been ordered for a psychiatric assessment and is due back in court on Jan. 10.