The community office of the Canadian Cancer Society in Williams Lake is going to stay open for at least another year after it was slated to close before the end of December.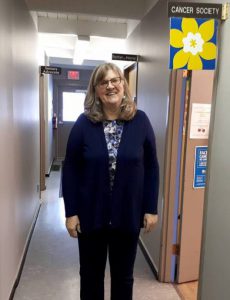 "I came in this morning and found out that we were going to be able to keep the office open at least another year because of the kindness of the Senior's Centre and I know a lot of people have petitioned for us in the community," says Jenny Bezan who has volunteered for about 8 years.
"I just can't be happier."
A staff member at the Williams Lake & District Seniors Activity Centre says that the Board Of Directors had a meeting and determined that the community office was something that the community could not afford to lose.
The stay of the office is in thanks of a rent-free office from the Centre.
The Canadian Cancer Society said in November that due to the declining number of people who used the office and also donations the office would close on December 22, 2017.
"Ultimately we recognized that we need to find other ways to engage with communities without relying on bricks and mortar," said Nancy Shelford, Volunteer Engagement Coordinator for the Canadian Cancer Society.