Excitement was in the air Thursday evening as the official grand opening of the Sam Ketcham Pool Upgrade Project at the West Fraser Aquatic Centre was celebrated.
MLA for the Cariboo Chilcotin, Donna Barnett was just one of the many representatives to give a speech before a ribbon cutting and families took to the pool.
"It takes your breath away when you really see what they've done here-totally amazing. What a great Christmas present for Williams Lake, the surrounding, the Cariboo-Chilcotin for everybody to utilize."
Barnett went on to congratulate the working group, contractors, and everyone who made the project possible.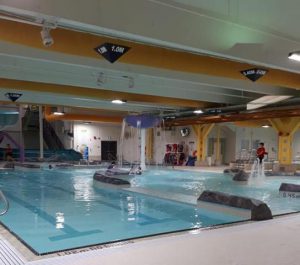 "It wouldn't have come together without our funding partners and also the desire of the community to have a facility that is not a band-aid renovation, but a renovation that is going to be appreciated for decades to come," says Williams Lake City Councillor and SKP Working Group Co-chair, Laurie Walters.
The completed project includes a new fitness centre, lap tank, swirl pool, steam room, and a leisure pool. The leisure area features a waterslide, lazy river, tots area, kiddie carwash, teacup fountain, bubble pit, vortex, and massage chairs.
The final project cost was $14.1 million with additional costs covered through capital reserves. About 55 percent of the construction cost was spent on local trades and suppliers amounting to more than $6.6 million.
The pool upgrade project was delivered with a tax increase of about $40 per $100,000 of the assessed value of land and improvements on properties within the sub-regional recreation service area. A referendum for the pool upgrade project was passed in 2014 that the gave the Cariboo Regional District authority to borrow up to $10 million for the project, however, in thanks to generous support from funding partners the CRD only ended up borrowing $6.5 million.
External funding for the project included $250,000 from Northern Development Initiative Trust; $500,000 from the Canada 150 Community Infrastructure Program; and a total of $4,427,500 through the federal Gas Tax Fund, including $427,500 from the Regional District allocation of Community Works Funds for specific energy efficiency upgrades and $4 million from the Strategic Priorities Fund. This support is in addition to the $500,000 donated by West Fraser to support the project in recognition of the long-standing connection between the facility, the company, and the Ketcham family.
In addition to the pool upgrade project, the parking lot at the Cariboo Memorial Recreation Complex was redesigned and upgraded. Completed in the fall of 2016, the parking lot cost $1.3 million.
The Sam Ketcham Pool upgrade project is a joint initiative of the Cariboo Regional District and City of Williams Lake.
(With Files from the Cariboo Regional District)