Volunteers helped deliver Christmas cheer and a turkey dinner to the community at the annual Yuletide Dinner held at the Sacred Heart Hall in Williams Lake on Wednesday.
Operations Manager at the Cariboo Chilcotin Child Development Centre, Vanessa Riplinger says the event was amazing.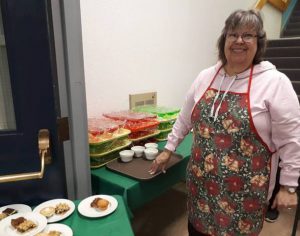 "The St. Vincent De Paul ladies they were incredible as ever and Brice from New World Coffee, the food we had rave reviews. The entertainment was spectacular. We served close to 600 meals. Everybody loved it. The spirits were bright."
Riplinger says with the Yuletide Dinner and their Christmas Wish Breakfast they served up to 1,400 meals between breakfast and dinner.
Yesterday marked the 20th anniversary of the Yuletide Dinner which is jointly sponsored by the Child Development Centre and Sacred Heart's St. Vincent De Paul Society with the help of community volunteers and donations.
"Being in service in the community I'm a real believer in paying back the community that we live in and that's why I volunteer with the Society of St. Vincent De Paul as well," says Laura Boxeur has volunteered for 3 years at the Yuletide Dinner.
"There's so many people that have needs and it's a small way that I can give back to the community."