The Lac La Hache Volunteer Fire Department were able to happily reunite a cat with his owners after rescuing the feline from a tree.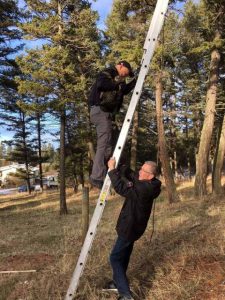 Fire Chief Terry Murphy says that one of the locals called him and said that they had a cat that was stuck up in a tree for three days now.
"They tried to coax it down with water, food, and all that sort of stuff but it wasn't it budging. Myself and our assistant Chief went out and had a quick look and thought well we could just throw up a 24-foot ladder."
Murphy says it took about 20 minutes from start to finish to pull out one of the engines, grab the ladder off of it, and bring the cat down.
He says although everyone thinks that the fire department rescues cats from trees all the time they don't and that it's very rare.
"I've only done it twice in my career with the Fire Department of 15 years," he says.