The results are in from this year's Cariboo Chilcotin Child Development Centre's Christmas Wish Breakfast in Williams Lake and also Vista Radio's Million Dollar Charity Event.
Executive Director of the Child Development Centre Nancy Gale says the community always surprises her in terms of its' efforts.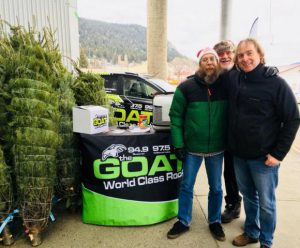 "We had a number of people that came in with large donations, with large toy donations which were absolutely fantastic. We also had a husband and wife that brought things. We had youth coming in with gifts and supports for other children, and the young staff at Boston Pizza donated their time and they worked like Trojans."
"Volunteers, the MLA was there serving, the Mayor was there, Daybreak Rotary was there. There are lots of people that take ownership of this particular activity," she says.
More than 800 toys, $400 worth of gift certificates, and about $8,500 in cash donations was raised for the CCCDC which will be distributed to their partner organizations to give to a child in need this Christmas.
"If you think about an average cost of a children's toy at $20 we exceeded our $20,000 target by a significant amount," says Gale.
"We're very grateful for the community and it always humbles me of how generous this community is."
Another $3,000 was also raised over two days on-locations at Save-On in Quesnel and Williams Lake in part of Vista Radio's Million Dollar Charity event that will also support the child development center in both communities.