Those needing a safe ride home for themselves and their vehicle in Williams Lake can give Operation Red Nose a call.
The second night of Operation Red Nose goes today after having kicked off their first night of the season Friday.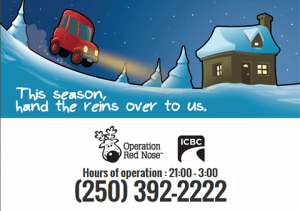 "The positive thing is we get people home," says coordinator Dave Dickson.
"We provide a safe ride and then any donations that we make over the next 10 nights we give it back to four youth groups in our community: the Blue Fins, the Cariboo Chilcotin Fiddlers, the Cariboo Chilcotin Gymnastics, and this year we're supporting Camp Likely."
Operation Red Nose runs today from 9 pm until 3 am and will be operational December 1st, 2nd , 8th , 9th , 15th , 16th, 22nd and News Year's eve.
This marks the 10th year of Operation Red Nose in Williams Lake which safely delivered 657 people home last season raising $8,400.