The Cariboo Regional District's fourth wildfire community consultation meeting took place Wednesday evening in Williams Lake at the Gibraltar Room.
The joint meeting started with a video and was followed by small group discussions ranging from fire prevention, wildfire fighting, business impacts, communication, and more.
Consultant with Butterfly Effects Communications, Tim Conrad who facilitated the event explains what they will do with the information that was collected.
"Some of it we're sharing with them right away, and I've been speaking to some of those agencies already (BC Wildfire Service, Red Cross, other municipal government, provincial government, First Nations) telling them some of the areas that we've heard about already but we are doing an official report that we are going to be giving to the Cariboo Regional District (CRD)."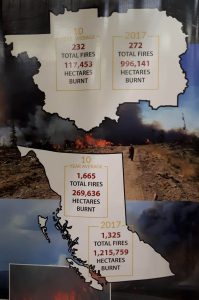 Conrad says that report then will be given to all the agencies, all the governments in the area to help them understand what they have learned when they were out on the road.
He says their goal is to have everything in terms of consultation wrapped and completed by Christmas.
CRD Manager of Communications, Emily Epp adds that they are working on other consultation methods to take place later this month for residents who were unable to attend including an online survey and also a Facebook live event.
The consultation in Williams Lake concluded with community members being able to write their answers as to what went perfect, what went awful, and what went ok. Also what support do you need in recovery, how did you get information, and do you know the difference between an order and an alert.
Figures from the Cariboo Fire Centre show that were 272 wildfires within the region in 2017 which is almost triple from last year and that at the height operations there were 2,863 workers.
The CRD says 60 homes and 167 other structures were destroyed.
The next Wildfire Community Consultation Meeting which the CRD will be using to improve future emergency response communications and planning is scheduled for Thursday (November 2) at 6:30 pm at the Wildwood Fire Hall.