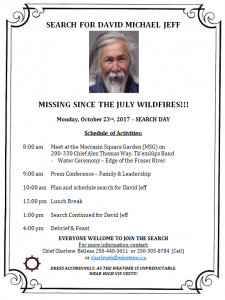 The Esketemc First Nation with the Tk'emlups Indian Band and Shuswap Nation Tribal Council will be leading a search Monday for a Williams Lake man who was last seen in Kamloops during evacuation orders this summer due to wildfires.
"Many of us went to residential school with David Jeff and we've been concerned about him since he went missing in July," says Esketemc Chief Charlene Belleau.
"I think we've waited for a while thinking that maybe he would return home but he hasn't."
Belleau adds that through Alkali they have been strong advocates for violence against women or men, and have conducted other searches for murdered and missing women.
"We thought we would search for David and also do it before the snow flys because it's getting cold and if we could search for him now it would be better then waiting," she says.
67-year old David Jeff according to Kamloops RCMP who will also be participating in the scheduled search has not been seen August 4, 2017, and was among the residents of Williams Lake who were evacuated on July 15.
Jeff is described as:
Aboriginal
5' 5 tall
146 pounds
Grey shoulder length hair
Brown eyes
"I think we will always be watching out for him and trying to make sure that we do whatever we can to support the family in finding him," says Belleau."At the end of the day, we will have a debrief and have discussion about how the day went and see where we go from there because the previous searches that we've done are all emotional."
"We're just hoping as well that along with the ones who do show up to search, that the public themselves in Kamloops engage and just take time when they get up to go to work to look around their homes, look around their area, look in the ditches, anywhere that they may live just in case. You never know."