Community members gathered at the 150 Mile House location of Chemo RV to salute wildfire responders Saturday night.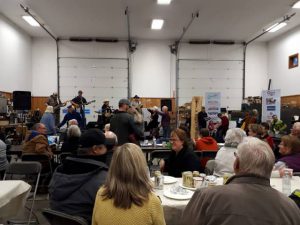 The evening which included a barbeque, raffle, children's activities, and live music also saw a cheque presentation of $18,000 each to the 150 Mile House Fire Department, Williams Lake Fire Department, and Canadian Red Cross.
"I'm speechless. I don't know what to say about it," says 150 Mile Fire Chief Stan McCarthy.
"I'm blown away by it. I just don't know how to thank those guys. It's just unreal."
McCarthy adds that the community support has been unbelievable and that they will use the funds to build a training center at their fire hall.
"We do a training weekend every first weekend in May every year, and this is going to add to our training center. So we're going to have the best-trained fire department around and we'll help out all of the other fire departments."
Chief of the Williams Lake Fire Department Des Webster who also in attendance at the event expressed amazement at the support.
"What Jason's crew did is phenomenal. We do the job we do because that's what we're hired to do but to get recognition like this because of that, it's amazing."
Webster says at this point they are not sure what exactly they will use the funds for although they will definitely go to a good cause.
Owner of the dealership Jason Bell says they had committed to donating $1,000 per RV they sold from July 1 to the end of September and that they had sold 54.
"We just feel with the sacrifices that those people made over the summer that was the least we could do to give back and continue to support our community because it's such a special place to live."