The Province's Lieutenant-Governor completed her pledge to visit 150 schools in BC in honor of the 150th anniversary of Canada's Confederation.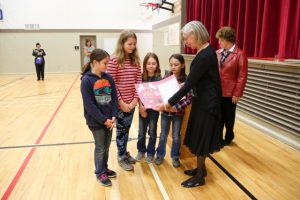 Judith Guichon visited the 150th school Thursday at David Stoddart School in Clinton and celebrated the completion of her pledge with students, teachers, and representatives of School District 27 at 150 Mile House Elementary and  150 Mile Little Red Schoolhouse.
"It has been wonderful to engage in conversation with the students of British Columbia. Meeting so many of the province's bright, young minds was a great privilege," said Guichon in a news a release.
"Thank you for joining me in celebrating our country's sesquicentennial."
The school visits were launched on Jan. 18, 2017, at Sooke Elementary school, and are in addition to the Lieutenant-Governor's priority programs, Stewards of the Future and Sing Me a Song, as well as the hundreds of events, diplomatic visits and constitutional duties in which she participated or presided over throughout the year.