Theft of Vehicle, theft from vehicle, robbery, mischief under $5,000. and assault offenses are all down in Williams Lake according to the latest crime statistics.
Officer in Charge of the Williams Lake RCMP Detachment, Inspector Jeff Pelley says he believes that the decreases mainly has to with their strategies that police have implemented.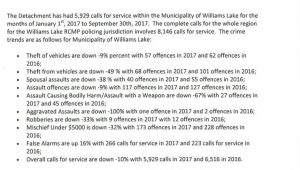 "Our enhanced policing with the Crime Reduction Unit, the initiatives with our General Duty uniformed officers, and our General Investigation Section are working in strategies that overlap with one another to focus on these individuals responsible for the crime trends."
There are currently five of twelve identified prolific offenders who remain in police custody.
Pelley says they have two members named for their Crime Reduction Unit that are starting on October 16 and that they intend on naming the other individual today to move three members over and have the Crime Reduction Unit resulting in 7 full positions.
He adds that they have had many individuals that have had curfew conditions in place, and says their members mainly uniformed members conducted 108 curfew checks for the month September involving individuals bound by strict curfew conditions.
11 breach investigations have been pursued for 6 different individuals for non-compliance of curfews.