Wet conditions did not stop the community of Williams Lake coming out to rally to raise awareness about the importance of kidney health and organ donation.
Sunday's annual Kidney Walk was held in Boitanio Park.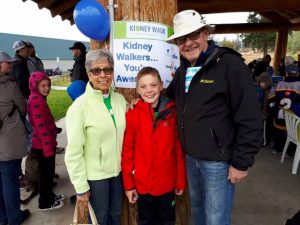 Annette Belsher and her husband Doug, who are Nash Overton's great-grandparents, says that they would not miss the Walk for anything.
"We're just delighted with this turnout considering our little bit of rain and to see the support that Nash is getting is just awesome."
Team Nash, led by Nash Overton who at just two years old was diagnosed with kidney disease, helped raised over $18,000 for the walk.
Walk coordinator Jamie Macdonald who was also pleased with the turnout estimated that as of Sunday morning, the Walk raised just under $20,000 with a few donations still coming in.
"I think we're almost double of what we had last year and considering we only had 2 weeks notice and the fires and everything it's outstanding."
This year marks the 10 year anniversary of Kidney Walk for the Kidney Foundation of BC.
UPDATE: Bean Macdonald said later in the day on Facebook that after some "BIG" late donations the Kidney Walk in Williams Lake was just shy of having raised $27,000.