Campfires will once again be allowed throughout the Cariboo Fire Centre as of noon today.
"A return to more seasonal weather conditions and recent precipitation has reduced the wildfire risk in these areas," said the BC Wildfire Service who advises that anyone wishing to light a campfire must have ready access to eight litres of water or a shovel during the entire time the campfire is lit.
"They also must completely extinguish the campfire and the ashes must be cold to the touch before they leave the area for any length of time."
The use of sky lanterns, binary exploding targets, air curtain burners, fireworks (including firecrackers) and burning barrels or burning cages of any size or description, as well as tiki torches and chimineas, are also allowed.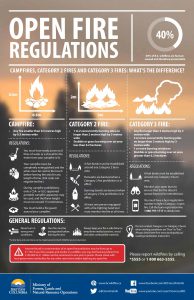 Category 2 and Category 3 open fires, which are fires larger than 0.5 metres by 0.5 metres, remain prohibited.
Open burning prohibitions apply to all BC Parks, Crown lands and private lands, but do not apply within the boundaries of a local government that has forest fire prevention bylaws and is serviced by a fire department. The BC Wildfire Service says to always check with local authorities to see if any other burning restrictions are in place before lighting any fire.