The all-clear has been given to the Highway 24 corridor area resulting in no evacuation alerts or orders remaining within the Cariboo Regional District.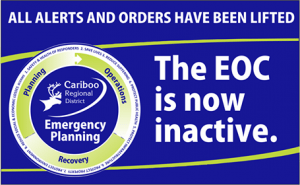 "I think everyone is relieved and pleased to see that the fires have reached the point where we can take everybody off of alert and let everyone stay home," says chair Al Richmond. "We just hope that there's no recurrence and mother nature continues to cooperate with the firefighters who are still out there."
Richmond says it was July 7 when it certainly appeared that the District was surrounded by fire, and that alerts and orders this year had affected 35,000 people.
"I think it was a bit of disbelief about the situation we were facing and of course over the next 70 plus days, we continued to face situations that we hadn't anticipated. Given it's the worst fire season the province has standed in over 60 years, it's certainly the worst situation that we've experienced in the Cariboo-Chilcotin and god willing we won't experience this again."
The CRD Emergency Operations center closed its operations and public phone lines at noon Wednesday.
The CRD according to Richmond is now in recovery mode looking for options to recover the damage that has been done to the economy which includes but is not limited to the agriculture, tourism, and forestry sectors.