Xatsull  Save the Salmon Traditional Pow-Wow continues this weekend after having been postponed due to the wildfires.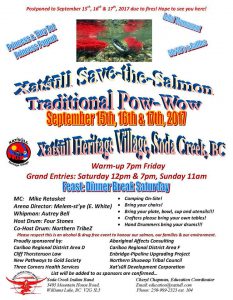 Cheryl Chapman is the Education Coordinator with at the Soda Creek Indian Band says it had been originally scheduled for August 25-27.
"Of course we were on evacuation order and weren't able to host. We decided to postpone until September. I know that one of the challenges we have of course is that our salmon have gone by already by the Xatsull Heritage Village and they're well on their way to Horsefly."
Chapman says it will be a bit more difficult for their fishing demonstrations that happen at the Xatsull Heritage Village with their tour guides.
She says although the fires this year were pretty scary and intense, the Village did not lose anything.
"The Xatsull Heritage is just up the river from the Rudy Johnson Bridge where the White Lake fire jumped the river, and our second community here at Deep Creek the wildfires were all around us…My partner and I stayed to help fight fires and I'm sure that we would have lost at least 8 of our homes on the south end of our community if we hadn't stayed to help and fight the fires."
A feast on Saturday in which the public is invited to attend starts at 5 pm.