The only remaining evacuation order within the Cariboo Regional District will be lifted today, Saturday, September 16.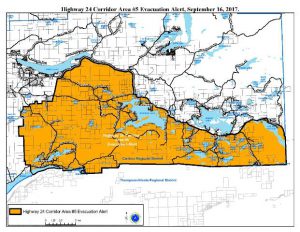 The Cariboo Regional District will downgrade the Highway 24 corridor evacuation order to an alert effective at 2 pm and residents in the area may return home after this time.
Before deciding to return, residents are encouraged to consider that wildfire activity continues in these areas and the area remains under an evacuation alert.
"Wildfires remain active and firefighting activities continue in the area," said the CRD. "To ensure public safety, stay out of fire-affected areas and obey all warning and hazard signs. Interfering in an active fire area will result in crews ceasing ground and air operations potentially endangering nearby properties."
The following map indicates the alert areas:
For information about current orders and alerts in the Thompson-Nicola Regional District, visit www.tnrd.ca.