The Cariboo Regional District has updated preliminary structure loss totals.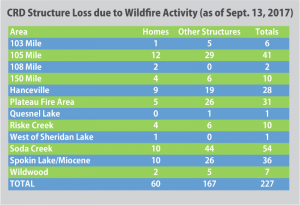 To date, the region has lost 60 homes and 167 other structures due to wildfire. The totals now include structure loss numbers from the Plateau, Elephant Hill and Quesnel Lake wildfire areas.
"With over one million hectares burning in the Cariboo, the work of all firefighters and emergency personnel resulted in low structure losses on many fronts," says CRD Chair Al Richmond. "In particular, we were very fortunate there was only one structure lost in the Cariboo Regional District as a result of the Elephant Hill fire. As we move into recovery, we encourage the entire community to support those who lost property."
Damage assessments have been largely completed throughout the 12 areas of the region, and few changes according to the CRD are expected in the future.
The numbers were corrected to remove some added in error, and renamed 'outbuildings' to 'other structures' as compared to those released on September 5.