Work continues on renovating the former building of the Museum of the Cariboo Chilcotin before it can be occupied by the CMHA's Jubilee House, and Cariboo Lodge gets fully demolished.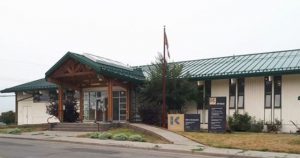 As Chief Operating Officer with Vantage Living, Darlene Haslock explains the completion of the 72 care bed facility is not on schedule.
"It was delayed like everything else. When the order (evacuation) was lifted we had people going in to work on it, there were no accommodations. So some of them found accommodations in Quesnel, so there were delays even after."
Haslock says they are now looking at Fall 2018 before the project is complete.
"We had expected at this point Canadian Mental Health would have been moved and the building would have been demolished…We're definitely pushing into fall of next year now."
CMHA's Jubilee House is anticipated to move into the former Museum of the Cariboo Chilcotin building on September 15.
Insite had originally hoped to break ground for the residential care facility this summer and have it open by the summer of 2018.