A party to bring on the rain and support the Salvation Army Food Bank is scheduled for Saturday in Williams Lake.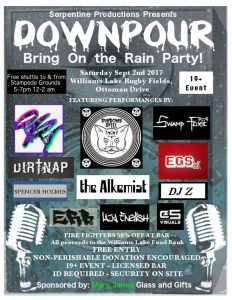 Coleman and Christina Bennett are with Serpentine Productions.
"Just after we got married and we were on our honeymoon outside of Charlotte Lake by Kleena Kleene where that giant fire started outside of Hanceville, we rushed home once they opened the road back up. So we drove right through the fire," says Coleman.
"This is just a small way for us to give back to the community because food banks were really useful for us when we were in Prince George and Chilliwack."
Bennett says they are also offering firefighters who have done a lot of work this summer while staying in different communities drink discounts.
The 19+ Downpour Party starts at 5 pm Saturday at the Williams Lake Rugby Fields.
Entry is free although the donation of a non-perishable food item which will be donated to the food bank is encouraged.
"A lot of music festivals and stuff got canceled this year so people are waiting for something cool to happen especially around the Cariboo area, " Coleman adds.
"We have Sundown Spell a band from Quesnel that's really great, and a bunch of different DJs from the local area."