The White Lake fire which roared across the Fraser River on July 15 left blackened earth, trees, and devastated property owners in its' wake on Soda Creek Road.
Local media were given a tour of the area of the Thursday morning.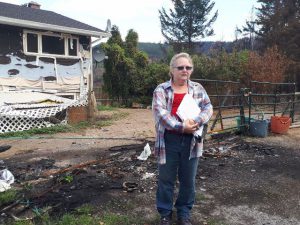 Property owner Sharon Mallard lost many outbuildings, although she and her husband's home was spared.
"This was really devastating to come to. First of all, we heard that our neighbors were burnt out so we were pretty much sure that we would be gone. We didn't lose the house, but we lost 11 outbuildings, so my barns are gone, all my equipment, I have hay gone."
Mallard says that the fire was incredible and although it took everything around them, her house is still standing minus the lost siding and smoke damage.
She says they currently do not have water as the fire burned all the way down the well destroying it.
Despite the losses, Mallard says there have been many kindnesses including people from Prince George who arranged transportation for their 10 horses.
Further down the road, another home although smoke damaged was also spared due to being 'Fire Smart'.
Samaritan's Purse which is working with homeowners like Mallard shift through the ashes to recover any items, and remove appliances and debris currently has 74 work orders.
The White Lake fire as of August 24 is listed as 'under control' with crews continuing to patrol the area to locate and extinguish any hot spots found.
The cause of it remains under investigation.
58 homes and 136 structures have been lost to date within the Cariboo Regional District, a number which CRD Chair Al Richmond says will likely climb.