The Canadian Red Cross continues to provide assistance and support to individuals impacted by this year's devastating wildfires within the Cariboo.
Provincial Director of the Disaster Management Program, Elysia Dempsey, arrived in Williams Lake Tuesday night.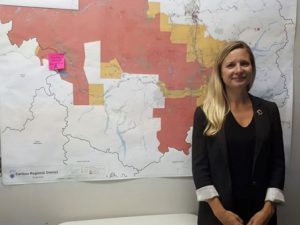 "We drove up from Kamloops and drove through Clinton where they just rescinded their evacuation order. So we're here today spending some time at the Resiliency Centre and meeting with our volunteers and staff."
Hours for the Canadian Red Cross at the Boitanio Mall Resiliency Centre are now 9-5 Monday through Saturday and closed Sundays.
"We actually provide service not just in a crisis like this event. We actually have local volunteers here in Williams Lake that support on a day to day basis individuals that have had house fires and that won't change," says Dempsey.
"We will continue to have a presence in the community, and we will work in the months and the years to come."
Dempsey says Williams Lake is one of the busiest sites that the Canadian Red Cross has in BC.
She says they have launched two new programs including Support to Small Business which provides $1,500, and Community Partners Program which provides funds to community partners such as United Way, Food Banks, and SPCAs who have been supporting individuals affected by the fire event.
Further information on the programs and support available through the Red Cross is available at http://www.redcross.ca/