The Tsilhqot'in Nation says a historic moment was marked in Williams Lake on Monday in a meeting with Prime Minister Justin Trudeau and Federal Ministers Hon. Harjit Sajjan, Hon. Jody Wilson-Raybould, and Hon. Carla Qualtrough.
The Tsilhqot'in Leadership and Trudeau discussed the wildfire situation and what it means to work in partnership and in a manner consistent with a Nation to Nation relationship.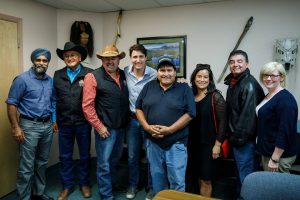 "In one of the most critical times for the Tsilhqot'in Nation, the respect and recognition demonstrated by the Prime Minister was extremely meaningful and positive to witness for the Tsilhqot'in Leadership, said Chief Joe Alphonse, Chief of Tl'etinqox First Nation, Tribal Chairman of the Tsilhqot'in National Government.
"We thank the Prime Minister for taking the time to meet with us as we begin to put a true Nation to Nation relationship into action."
The Tsilhqot'in communities are at the very heart of the Hanceville Wildfire which as of Tuesday, August 1 was estimated at 134,000 hectares, and are surrounded by other wildfires as well.
Tsilhqot'in fire crews successfully defended their communities against wildfires that raged right up to the borders of their communities.
"They saved their homes, communities and their future," the TNG noted in a media release.
The Tsilhqot'in Leadership were honoured by the respect demonstrated by the Prime Minister and his team in Williams Lake.
"This included the acknowledgment of the responsibility and skill demonstrated by the Tsilhqot'in Nation and Leadership in the handling of the wildfires under tremendous stress and the recognition that this emergency highlights that more work needs to be done to work together in true partnership on a Nation to Nation basis."
"The Tsilhqot'in Leadership are looking forward to a new era in the relationship between the Government of Canada and all Indigenous Nations."