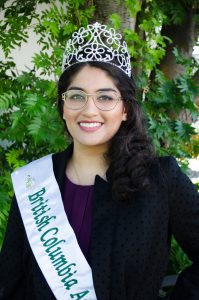 A young Quesnel woman was named to the 2017 BC Ambassador Program.
Mierie Sabberwal won the top award for BC Knowledge and was the winner of the People's Choice Award following last weekend's program pageant and awards ceremony.
She says she could not have done it without the help of her friends and family, and everyone in Quesnel and the surrounding areas.
Sabberwal will now be traveling to other communities with programs like the Miss Quesnel Self Development Program, and encourage youth to get involved and move forward to the BC Ambassador Program.