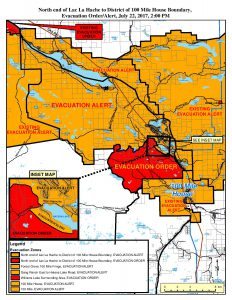 Great news for wildfire evacuees from 100 Mile House!
After nearly two weeks of being displaced from their homes, majority of the South Cariboo has been identified as having a reduced fire risk, allowing residents to go home.
An area from the North end of Lac La Hache through to the entirety of the District of 100 Mile House within the Cariboo Regional District was downgraded from an Evacuation Order to an Evacuation Alert Saturday at 2pm.
While residents are able to return to the 100 Mile and surrounding area, nearby communities remain on evacuation order and security will be in place.
Everyone returning to the area is asked to exercise caution to ensure their personal safety. Residents are returning to an area that was profoundly affected by wildfire.
Services that residents rely on, such as grocery and heath care, may be limited, and the CRD is advising anyone choosing to return should have a full tank of gas and basic necessities, including food and prescriptions for at least seven days.
It is important to note that air quality remains poor as a result of smoke from nearby fire activity. Those with respiratory issues, small children, and the elderly should consider this before driving home; for those choosing to wait, Emergency Social Services (ESS) will still be available until services are restored.
For residents staying south of 100 Mile House, the route home is clear along Highway 97 North.
For those residents staying north of Williams Lake, Area H Director Margo Wagner says the route home will be along Highway 16 to Highway 5 then along Highway 24, as Highway 97 south is still closed.
"There's still several evacuation orders, including the area of west and south of Watson Lake, and you should call the CRD emergency information number for help. The highway is still shut north of Lac La Hache going into Williams Lake as there is still active fire up there," says Wagner.
Those who were removed from the community via bus will be able to return home via BC Transit within 48 hours. Door-to-door bus service for those with mobility issues will be available on Monday afternoon.
An information centre will be set up at the South Cariboo Recreation Centre from 8AM to 8PM daily, and the Red Cross will be available to anyone that requires assistance.
Since the area remains on evacuation alert, people are being advised anyone returning must be prepared to evacuate once again should an evacuation be required. As with previous evacuation alerts, residents will be given advance notice, however, limited notice may be given due to changing conditions.
"So do not unpack your grab and go bags. Whatever you had packed, your photographs, your important papers, and everything should stay packed," explains Wagner. "If we have changes in wind, another dry lightning session, everything could change yet again."
An information centre with many resources will be set up at the South Cariboo Recreation Centre and will be open 8am – 8pm daily until need subsides. Red Cross services will be available to anyone returning to the area that requires assistance. They can be reached at 1-800-863-6582.
WHAT YOU SHOULD DO WHEN AN EVACUATION ORDER HAS BEEN DOWNGRADED
Upon notification of an evacuation order downgrade, you should remain prepared for an evacuation by:
Ensuring that you know the location and preparing to transport all family members or co-
workers and designate a Reception Centre outside the evacuation area, should the area brought back under evacuation order.
Keeping essential items readily available for a quick departure, including medications, eyeglasses, valuable papers (i.e. insurance), immediate care needs for dependants and, if you choose, keepsakes (photographs, etc).
Ensuring that any disabled persons and/or children are prepared for departure.
Ensuring that pets and livestock remain in a safe area.
Ensuring that you have accommodation options for your family, if possible. Reception Centre will be made available again if required.
Monitoring reliable news sources for evacuation order information. Further information will be issued as it becomes available via the CRD Emergency Operations Facebook page (@CRDEmergencyOperations) and the CRD website www.cariboord.ca