Stories of tourism operators and hospitality businesses opening their hearts and doors to support firefighters and evacuees are emerging.
Board Chair of the Cariboo Chilcotin Coast Tourism Association (CCCTA), Andre Kuerbis says they will be featuring their stories to get the good word out, and that was one of them was Spruce Hill Resort and Spa.
"Len Doucette, the general manager decided to open up and offer a place for firefighters and volunteers. Majority of the staff was not able to get to work due to obvious reasons. He called to the first people that came to his mind; the former owners who know the place very well and know what to do."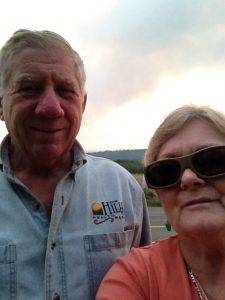 Kuerbis says Pat and Juanita Corbett who had evacuated to Vancouver drove back with permits approved by the Cariboo Regional District to the business they ran for 33 years then known as The Hills Health Ranch.
"We're up and running now," said Pat Corbett, "but for 30 hours we were pretty busy. Juanita was in the kitchen and I was doing – whatever was needed."
CCCTA CEO Amy Thacker says just down the Highway from Spruce Hills, 108 Mile Golf Resort is also housing and feeding workers.
She says there are stories throughout the region of tourism and hospitality businesses making huge efforts to help firefighting efforts and evacuees.
On the evening of Friday, July 7, when evacuees began stopping in Lone Butte, the owners of Iron Horse Pub saw people in need and provided meals, showers and laundry facilities, and opened the acreage behind the pub to trailers and campers.
"It just happened," said co-owner Karen Owens with Tracy Armstrong, "We saw people displaced with no place to go. The average person doesn't think twice. We give them a place to sit, feed them, try to give them a sense of community."
Even down five staff themselves, the women cooked breakfast for the evacuees and even helped find a temporary home for one traveler.Regular customers heard, and dropped off donations, including water, for the evacuees.
Food supplier, Sysco, got word of what the owners were doing and topped up the pub's next order to help them support the evacuees.
"I wouldn't want to be anywhere else," says Owens who has no regrets about staying to help others during the early days of the fires. "We fell in love with the Cariboo years ago and dreamed of living here."