There were no lives lost but lots of damage was done to the Williams Lake Indian Reserve by the wildfire that roared through the area on Friday.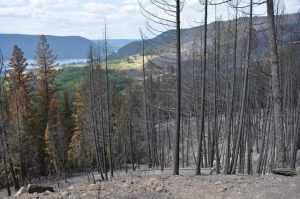 It went down the hill above Reserve #1 and quickly spread around Coyote Rock Golf Course and eventually hopped the Highway and went through the community threatening homes, government buildings, recreational facilities, and schools.
Williams Lake Indian Band members were evacuated just in time, many having only a few moments to grab a few basic possessions.
As they exited the community, they watched helplessly as the fire quickly engulfed Sugar Cane.
Despite the efforts of fire fighters, one home and a number of outbuildings and vehicles were lost.
"The fire burned right through the most populated areas of Sugar Cane," said WLIB Councillor Willie Sellars. "It's truly remarkable that more structures weren't lost, and we're truly grateful that there has been no loss of life. We want to recognize the efforts of all the fire fighters, both from outside the community and within the community that have been battling, and continue to battle, the blaze."
Large stands of timber on the reserve have burned in the fire.
Damages from the lost timber along will likely be in the millions of dollars.
Chief Anne Louie says it will take some time to fully access all of the damage.